Built: 2004-01-01 00:00:00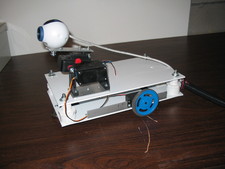 This is a robot that I did for a COSI training session. I had students login to my website and then control the robot from the internet. It consist of a pan & tilt camera, and an SSC Servo Controller tethered to a power supply and a serial port since it was on 24/7.
This robot is also featured at Robots.Net.
Specs
| | |
| --- | --- |
| Chassis: | PVC Sheets and Aluminum. |
| Power: | Tethered - 12VDC and 5VDC from power supply of old PC (old Feynman Power Supply). |
| Movement: | Scott Edwards Servo Controller (Mini SSC II) and 2 hacked servos. |
| Sensors: | 1 Pan and Tilt Logitech Webcam. |
| CPU/OS: | Scott Edwards Servo Controller (Mini SSC II) |
| Other Info: | On 24/7 and connected to the internet for remote control. Powered by Java and Apache Tomcat. |
| Software Info: | |
Other Robot Info
Some More Photos of Rovey
| | |
| --- | --- |
| | From the front. |
| | Exploring Mars in my basement. |